When a part of the family wants for dinner Pasta Bolognaise and the others fried meatballs with mashed potatoes ---- this recipe is perfect.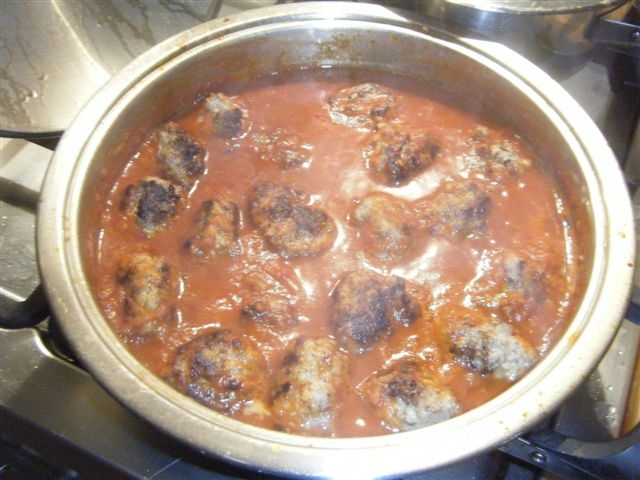 Meatballs
500 g mince (beef or pork)
1 very fine chopped onion
1 egg
30 g bread crumbs
25 g Parmesan
salt, pepper
mixed Italian herbs
1 grated clove of garlic
parsley
basil
marjoram, oregano
Tomato sauce
1 can of tomato puree
1 fine chopped onion
2 fresh tomatoes, cut in small peaces.
2 cloves of garlic
1 small carrott grated as fine as the garlic
a glas of red wine
a twig of rosemary
lemon cest

olive oil

Preparation
Start with the sauce. Heat some olive oil in a fry pan, put the onion and garlic in it, add the carrot, stir for a minute (or so) add the tomato puree, the tomatoes and the red wine. When it starts to boil, reduce the heat to the minimum, add the rosemary, put the lid on and leave it simmering for about 20 - 30 minutes.
Mix all the ingridients (even the parmesan) together, prepare small mealballs. Bring water in a pot to the boil and let the meatballs simmer for 5 minutes. Afterwards fry them nice brown in a pan, put them to the tomato sauce - after you took the rosemary out of the sauce. Put some lemon cest to it, garnish with fresh basil leaves. Serve with pasta.