...ist eigentlich eher eine Antiquität. Aber dafür in gutem Zustand. Gefunden habe ich das Autschgerl hier:
http://www.drive.com.au/
Price: $4,475* Total Dealer Price
Special: N/A
Trans: 5 SP MANUAL 4x4 Body: 4D WAGON
Year: 1990 Fuel Type: Unleaded
Engine Size: 2.6 Colour: WHITE
Km's: 239008
Reg No: VAJ650
Location: Adelaide Stock Number: 2708
Besonders angetan hat's mir natürlich der Spritverbrauch von 0l / 100 km, was ein nur schwer zu toppender Wert ist:
Standard Specifications:
Make MITSUBISHI
Family PAJERO
Model Variant EXE LWB 4x4
Car Series NG
Year 1990
Doors and Body Style 4D WAGON
Engine Size 2.6litres (2555 cc)
Fuel System CARB
Cylinders 4
Driven Wheels 4WD
Std Transmission 5M4x4
Optional Transmission
Standard Features Cloth Trim, Limited Slip Differential, Metallic Paint, Power Steering, Radio Cassette with 4 Speakers
Optional Features
(Features offered when new and not necessarily on this car.)
Dealer Options
No Cost Options
Bore and Stroke 91.1x98mm
Power 79KW
Torque 192Nm
Weight to Power Ratio 20.44 : 1kg/kW
Front Brakes DV
Rear Brakes DR
Wheel Dimension 6.0Jx16
Turning Circle 11.8m
Compression Ratio 8.8
Final Ratio 4.875
Tank Capacity 92litres
Exterior Length 4540mm
Exterior Width 1680mm
Exterior Height 1890mm
Front Track 1400mm
Rear Track 1375mm
Wheel Base 2695mm
Front Suspension Ind; double wishbones torsion bar telescopic shock absorbers & stabiliser bar.
Rear Suspension rigid axle with semi-elliptic leaf springs & bias mounted telescopic shock absorbers.
Kerb Weight 1615kg
Ground Clearance 215mm
Seating Capacity 5
Highway Fuel Consumption 0 (lt/100km)
City Fuel Consumption 0 (lt/100km)
Towing Capacity 1500kg
Release Date 01/08/1989
Discontinued Date 31/05/1991
New Price (standard) 29966
Average Kms 0
Model Run
VIN Location Pass Side Inner Guard
Country of Origin JPN
79 kW sind nicht besonders viel, aber es muß ja auch keine Rakete sein. Dafür ist das Auto für einen Geländewagen recht leicht und das mit dem Benzinverbrauch kriege ich dann schon noch raus.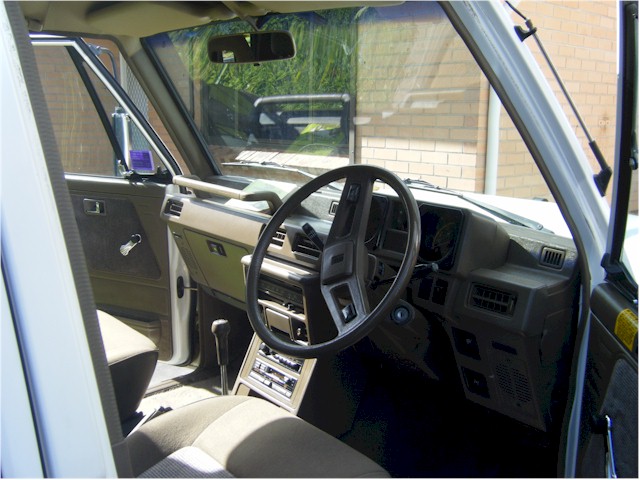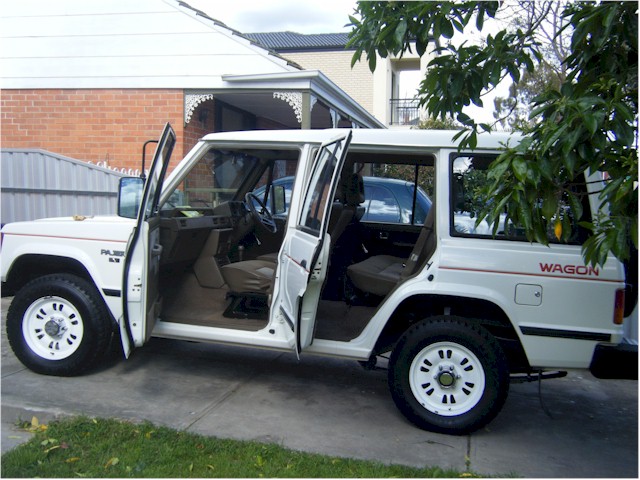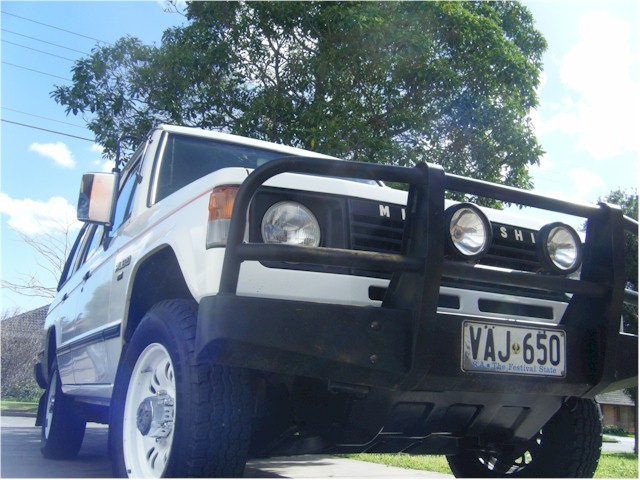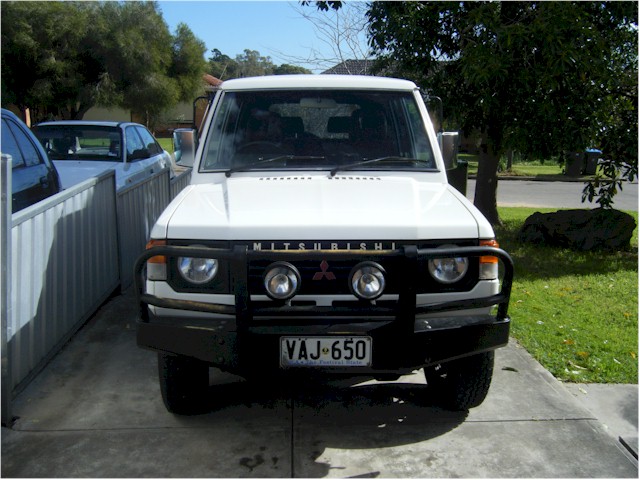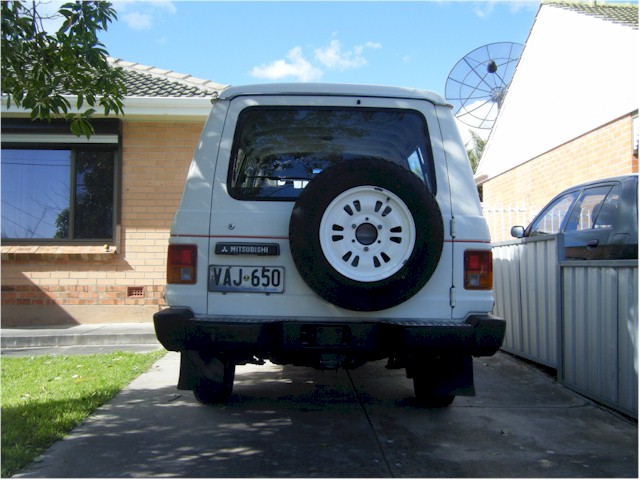 Bis auf den Bullbar ein recht normales Auto. Ich glaube nicht, daß sowas in Deutschland jemals TÜV bekommen würde. Aber so was wie TÜV gibt's hier eh nicht. Wie im Paradies... ;o) Ebenfalls unschwer zu erkennen, das Lenkrad befindet sich auf der rechten Seite. Daran gewöhnt man sich aber recht schnell und wenn man dann gelernt hat, damit zu leben, daß man beim Abbiegen die Scheiben wischt und bei Regen blinkt, dann fährt sich's ganz gut.
Gesalzene Strasse gibt's hier auch nicht und demzufolge auch keinen Rost. Ich hab' noch nie so einen alten Eimer ohne jeden Rostfleck gesehen. Als ob er jahrelang nur in der Garage gestanden wäre, tsts....
Update: wir fahren den Wagen immer noch (2013). Reparaturen bisher nur der Luefter. Geile Karre!
Zurueck
...